The HISTORY of
Bishop John Beahen
Assembly 2230


First Ontario District, Cardinal McGuigan Province
Ottawa, Ontario, Canada
At the time of our consideration of the creation of a new Assembly in Ottawa, there were already two assemblies that served the needs of the English Knights in the Ottawa Archdiocese. They were; Cartier Assembly, which was recognized as a bi-lingual Assembly and Father Reynolds Assembly, an English language Assembly. One of our major goals was to bring the Councils of District 66 closer together. The driving force for our new Assembly was PGK Keith Boyden of Council 7873 who also was to become our Charter Faithful Navigator. At the first Organizational Meeting in October1989, twenty-one Sir Knights sat down to create various committees. A committee chaired by Sir Knight Keith Boyden of Divine infant Council, presented a proposal at the February 1990 meeting, that the Assembly be officially organized as the "Bishop John Beahen General Assembly." Although there were many obstacles to overcome in getting the authorities to agree on the requirements to form a new Assembly in the First Ontario District, we worked hard together to achieve our goal. The Supreme Board authorized using the name of a person well known to the Knights in Ottawa, the late Bishop John Beahen, who had served as Auxiliary Bishop of the Ottawa Archdiocese.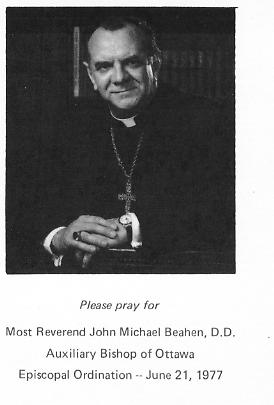 On Sunday afternoon, June 24th, 1990, some thirty Sir Knights from the soon to be formed Bishop John Beahen General Assembly #2230 were officially exemplified at the Hotel currently known as the Crowne Plaza Hotel on Lyon Street and later proceeded to St. Patrick's Basilica for Mass and investiture by the Worthy Master of the First Ontario District, Sir Knight Aubrey Allen. These Sir Knights were to form the core of the soon to be inaugurated Assembly 2230.

Our original Assembly cites membership from councils 5558, 7873, 8008 and 9005. Assembly 2230 Charter was granted January 25, 1991. Among those attending our inaugural Charter night was Sir Knight Aubrey Allen, Master First Ontario District, Sir Knight Ray Braun O.S.G., State Deputy for Ontario, SK Matt Beahen brother of Bishop Beahen, SK Tom Beegan Faithful Navigator of Father Reynolds Assembly and a host of Brother Knights from assemblies across the district. Our charter was received by our Faithful Navigator Keith Boyden from Brother Aubrey Allen, Master of the First Ontario District. Brother Keith Boyden was presented with a ship's Bell for the Assembly from Sir Knights Jim Jenkins and Ron Delaney.

Click below to see:
#Past Faithful Navigators
Knight of the year
---

1991 - 1992 Charter Executive
Faithful Friar Msgr. Len Lunney
Faithful Navigator Keith Boyden PGK
Faithful Captain Richard Hearn PGK
Faithful Admiral Ron Delaney PGK, FDD
Faithful Pilot James Jenkins PGK, FDD
Faithful Comptroller Peter Taylor PGK
Faithful Purser Donald McKenna PGK
Faithful Scribe Myles McKay PGK, FDD
Faithful Inner Sentinel Michael McEvoy PGK
Faithful Outer Sentinel Carl Ward PGK
Trustees Joe Kingsley PGK, Barry Loma PGK, Fidelis Ward PGK

Click Here to see executive of following years:


---
Charter members of Assembly 2230

LAST NAME, First Name, Council #, Former Assembly #:(Assembly 0860 = Cartier, Assembly 1670 = Father Reynolds)
AIRD Bill 5558 1670*
ALAIN Bernard 7873 1670
AUBIN Albert 5558 0860*
BAFIA,Mike 5558 1670
BARNETT Cecil 8008 0860*
BARRIE Daniel 7873 1670
BONNAH Ken 5558 0860*
BOYDEN Keith 7873 1670*
BRIGGS Bill 7873 1670*
CASEY Carl 5558 1670*
CAZA Maurice 7873 1670*
CHAMPION-DEMERS Frank 7873 1670
CONNORS David 8008 0860
D'SILVA John 7873 1670
DELANEY Ron 7873 0860
DONOHUE Thomas 7873 1670
ETHERINGTON Thomas 5558 1670*
FORTIER Ed 7873 1670*
GAUVREAU James 7873 1670
HEARN Richard 9005 0860
HILL Rev. Stephen 5558 1670*
HURTUBISE Rev. Michael 7873 0860*
JENKINS James 7873 0860
KINGSLEY Joe 5558 1670*
LAVIGNE Alcide 5558 1670*
LEGENDRE Aurelle 5558 1670*
LEMOIRE Wilf 7873 1670
LOCHNAN Joe 9005 0860
LOMA Barry 9005 0860
LUNNEY Rev. Len 7873 1670
McEVOY Michael 8008 0860
McKAY Myles 7873 1670
McKENNA Don 8008 0860
MEUSE Harvey 9005 0860*
MOORE Thomas 5558 0860*
NEILSON George 8008 0860*
O'BRIEN Ralph 5558 1670*
REALFFE Stanley 5558 0860*
ROSS Donald 5558 1670
SVAB Bill 7873 0860
TAYLOR Peter 5558 1670*
TEN DEN Henry 7873 1670
VOELLMECKE Edwin 5558 1670
WARD Fidelis 9005 0860*
WARD Carl 7873 1670
WIECZOREK Joe 8008 0860

Deceased* (as of June 2017)

Transfers from Cartier Assembly 0860
thanks to S/K Jean Jacques Vinette F.N. 1991:

Transfers from Father Reynolds Assembly 1670
thanks to S/K Thomas Beggan F.N.1991:
---
2006 Richard Charette.
PGK
2007 not awarded

2008 Don McKenna
2009 Ron Delaney
FDD. PFN, PGK
2010 Jean Leury
PGK

2011 Wayne Mousseau
PGK

2012 Michael Seguin
PGK

2013 Don McKenna
2014 David Hnatiw

2015 not awarded

2016 ..................

2017
pending

(If you can provide information on missing or previous years please contact Ron Delaney)
---
Inaugural Social Meeting: January 22, 1991 at "Swizzles" 745 Montreal Road.
Charter Faithful Navigator Keith Boyden thanked the following Knights who assisted him in putting together the proposal to form the new assembly: S/K's Richard Hearn, Donald McKenna, Peter Taylor and especially District Deputy Ron Delaney and District Warden Jim Jenkins,

A great meal was served, and heartily enjoyed by all . Subsequent meetings were held at various locations and hosted by the respective Councils.

Look at some pictures from our inaugural meeting?
---
Inaugural Charter Night: June 8, 1991 West Block of the Parliament Buildings.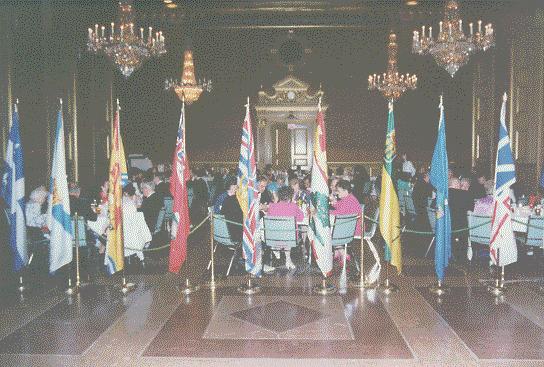 Look at some more pictures from Original Charter Night?
---
Class of 1990 Exemplification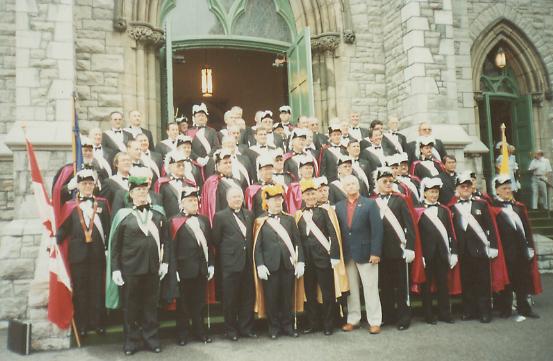 June 24 1990 Exemplification at St Patrick's Church, Ottawa
---
The 1990's saw the formation of the many programs that would sustain the Assembly throughout the next couple of decades of operation.
During these formative years, the following Sir Knights received from the membership, the honour of setting the direction of the Assembly
as Faithful Navigators of Assembly 2230:
Past Faithful Navigators
Keith Boyden 1991 - 1992*
Rick Hearne 1992 - 1993
Joe Kingsley 1993 - 1994*
Ron Hutt 1994 - 1995
Vince Brown 1995- 1996
Bill Briggs 1996 - 1997*
Ted McEvoy 1997- 1999
Barry Loma 1999 - 2001
Harry Boles 2001 -2003*
Wilf Lemoire 2003 - 2004
Ralph Maillet 2004 - 2005
Ron Delaney 2005 - 2006
Jim Westcott 2006 - 2008*
Pat Rusheleau 2008 -2010
Michael McCarthy 2010 -2010*
Jos

é

Cerrud 2010 - 2012
Carl Ward 2012 - 2013
Rod MacDonald 2013 - 2015
Jack MacDonald 2015 -2017
John St. Jean 2017.............
(To See pictures of Past Faithful Navigators and their bios click on name): (NOTE: This is a work in progress)
*Gone to the Father*
---
---