Updated: For parents of children receiving the Sacraments of Confirmation, First Eucharist and First Reconciliation, please visit our Sacraments page for more information.
Welcome
Welcome to The Divine Infant Parish (Orleans) website. Our parish serves a vibrant Catholic community in the Orleans area, east of Ottawa, through many parish ministries and activities. We have more than 3,000 families in the parish community.
For more information and/or registration contact the Parish Office at 613-824-6822.
About the Divine Infant Parish
Divine Infant Parish traces its beginnings back to Sept 1979, when Archbishop Joseph Aurèle Plourde established an English speaking Church Community, associated with and within the boundaries of St. Joseph's Parish of Orleans.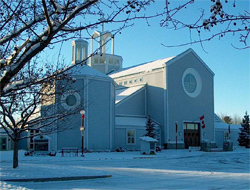 Father Michael Hurtubise assumed Pastoral and administrative responsibility for the Community, with the Liturgy being celebrated at Convent Glen Catholic School about a kilometre away from our present site ............(more)