Catholic Women's League (C.W.L.)
"For God and Canada"
As League members begin to recognize their gifts, so too they respond to the call of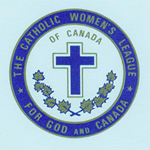 sharing their gifts. The C.W.L. promote spiritual development, support the Christian family, encourage education and are an integral part of the local community. As C.W.L. members we pray for one another and are women of action. We care for the less fortunate and support our parish of Divine Infant. Please join us, as together we develop and share our ministry.
Divine Infant Council 2872
In the Summer of 2007 the council celebrated it's 25th Anniversary. During these years we have been very active in the parish and in our community. We will celebrate this anniversary in June. Over the years, we have received a number of Certificates of Merit, Letters of Appreciation and numerous Thank You's from those we have assisted."
Some of the issues to be presented by our national president to federal members of parliament calling for action:
To develop official protocol for christian prayer at national ceremonies.
To include a comprehensive and universal national home care program under their Canada Health Act.
To promote and fund adult stem cell research.
To oppose bio-patententing of life forms.
To legislate that any form of child pornography has no artistic merit.
Membership in the C.W.L. provides members with many opportunities to put their faith into action by:
Becoming better informed about issues that impact on our communities and families.
Making a difference by speaking out on these issues as a part of a large organization.
Learning new leadership skills
Getting involved in your community and your parish.
Developing your spiritual life.
Forging new friendships.
Having fun.