Bishop John Beahen
Assembly 2230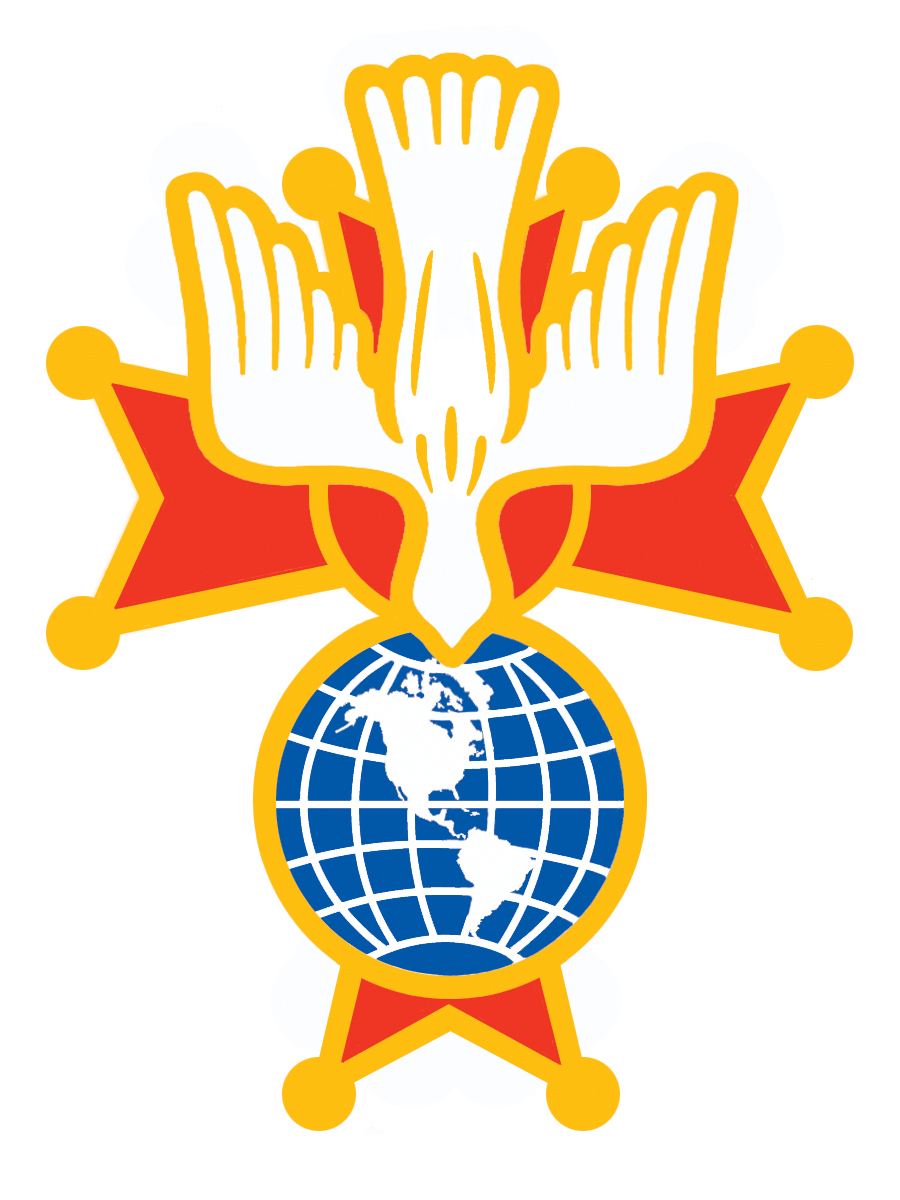 First Ontario District, Cardinal McGuigan Province
Ottawa, Ontario, Canada
GoTo District News GoTo Council News
---
BREAKING News 24 Dec, 2021.

IMPORTANT : change in schedule
Regular Business meetings have had to be cancelled due to current threat of COVID19.
As per Supreme and State, all meetings, travel and events are cancelled until further notice. Please check with Grand Knight or Faithful Navigator before attending any future events which are also cancelled or rescheduled due to same reason.
Online meetings will be used to schedule time and how to sign in and participate.
Instructions will be sent to you via email with instructions on how to sign on.

---
Due to the difficulty caused by the restrictions of the Covid19 Virus, it has been quite difficult to conduct meetings with the membership. We have tried to keep everyone up to date but this has not been a very successful arrangement. The executive had placed e-mail notices wherever possible, including a message asking for members to show their interest in serving on this coming year's executive. Little interest was expressed, so when we had collected enough names for each position, we made an executive decision to acclaim those interested in serving on your new executive. This is not the usual way things are done but, under the circumstances, we felt that this was the best way to carry on under the good of the order and continue to serve the assembly. We hope you will agree with our decision, and hope and pray that we all will survive these trying days. Please consider we still need your help and guidance to continue with our goals and beliefs as Knights of Columbus. Thanks to those Knights who did volunteer their services we hope to carry on to the best of our abilities.

Vivat Jesus.

At Christmas time we must not forget that in the true spirit of this season we must keep Christ in our thoughts.

KEEP CHRIST in Christmas
ESPECIALLY DURING THIS PANDEMIC THERE ARE MANY THINGS TO BE THANKFUL FOR. LET US COUNT OUR BLESSINGS AND SHARE WITH OUR BROTHERS AND SISTERS THE TIDINGS OF GOOD WILL TOWARDS ALL.

...........................................................................................................................................................................................
R.I.P



S/K Bernard Becker

November 11, 1940 - December 9, 2019




...................................................................................................................................................................




S/K Joseph B. (Barry) O'Regan


June 20, 1948 ~ February 27, 2020


...................................................................................................................................................................




S/K Ron Anderson
Aug 30, 1947 - 6 August 2020

_________________________________________________

S/K Deacon Dan Careau




---
---
from Saturday February 15th, 2020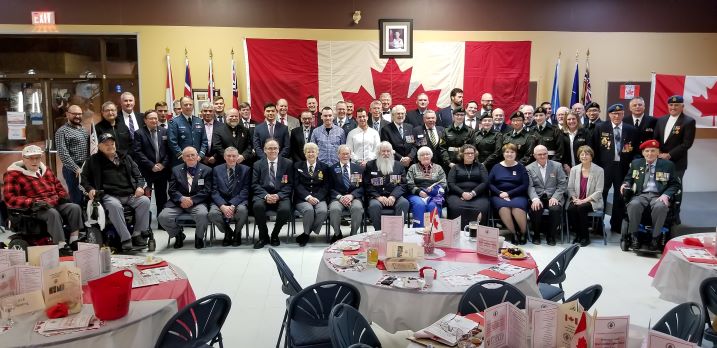 Thanks for those who attended, we all had a good time.
---
Assembly Light Jacket - Personalized
Our assembly is seeking feedback from its members if they are interested in procuring a jacket for personal use.
Select Color
Select Size * ??
Select Emblem * 4th Degree
For Emblem of the Order for the 4th Degree, enter only the name and number of your ASSEMBLY *
Bishop John Beahen 2230
Individual Name Personalization on right chest *
· Yes [+$6.00] Enter your name here if you wish to have your personal name added
· No
Aprox $45 U.S. with no name
Qty: 1
This light jacket merges wind- and water-resisting performance with a silky-smooth hand. This unlined piece is easy to wear over base or thermal layers. The shell is 100% polyester and there is a cadet collar with a chin guard. The sleeves are set-in and there is elastic binding at the cuffs and hem. There are two open pockets in the front. It is available in several colours ( Red, Dark Blue, Black, Light Blue} with the Emblem of the Fourth Degree Emblem on the left chest; your assembly name and number will be embroidered around the Emblem.
Optional individual name personalization is available at additional charge.
Please allow 30 business days for your custom order to be produced.
Suggestions re Jackets:
1. As these prices are not official and as we all know Supreme charges delivery plus an exchange rate that varies, we must be careful what we charge* and all orders must be paid in advance.
2. There is a formal order form that must be used for each submission per member that comes from Supreme office. (http://www.knightsgear.com/sport-tek-full-zip-personalized) fill it out and give to comptroller
3. Seeing as how this must be processed by Supreme, the executive have decided if you wish to purchase, we will have the Faithful Comptroller place the order so that the assembly will be charged for the order and the exact cost and any differences in amount + or – be charged/refunded to the member before handing over the jacket.
4. As to the choice of jacket, if we order the unlined version, I recommend we order one size larger to enable us to wear a sweater under it spring and fall but it can still be wearable in the summer.
5. If we choose the heavier version then we can't wear it in mild weather, but we could consider T-shirts as an option.
Please contact the FN with your thoughts on the subject. eg> should we standardize on colour?
Lets have your input by next meet which will be in March as our regular date is Shrove Tuesday in February, and the hall cannot be used,
---
THE 38th ANNUAL ST. PATRICK'S PARADE AND PARTY SATURDAY, MARCH ?????
THE KNIGHTS OF COLUMBUS LEAD THE PARADE
As Knights of Columbus the annual St. Patrick's Day Parade provides a wonderful opportunity to show Ottawa that we are an active fraternal charity organization within our community. In particular for the 4thDegree as the Visible Arm of the Order, leading the parade offers the avenue for great exposure. Councils are also invited to bring their members with families and Council banners to fill the ranks of Knights of Columbus walking.
Parade Details: POSTPONED
Formation: The Knights are to meet in the main lobby of City Hall by 10:15 a.m.
Parade Time: The parade will start at 11:00 am, and finish at approximately 12:30 pm.
Parade Route: The Knights will line up at the corner of Elgin Street and Laurier Avenue. At 11:00 a.m., it will move westward to Bank Street, then South on Bank Street to Lansdowne Park.
Parking: Parking is available at City Hall and Lansdowne Park (underground) for a fee. Therefore carpooling by participants is recommended.
Busing: Free shuttle school buses will operate between Lansdowne Park and Ottawa City Hall starting at 8:30 am.
Questions about KofC participation in the Parade may be directed to: Sir Knight Michael Ferrigan, Assemblée Cartier Assembly 860 by telephone at 613 230 2713 or by E-mail at mferrigan@rogers.com.
Party: The Grand Irish Party will be sponsored by the Irish Society Parade Committee in the Aberdeen Pavilion Lansdowne Park from 12:00 noon to 5:00 p.m.
Note: There will be an admission charge and tickets are limited. For additional information or purchase of tickets in advance, see: www.stpatricksparty.ca or www.eventbrite.ca/e/. For additional information respecting the Ottawa Irish Festival and the Parade see: www.irishfestival.godaddysites.com
---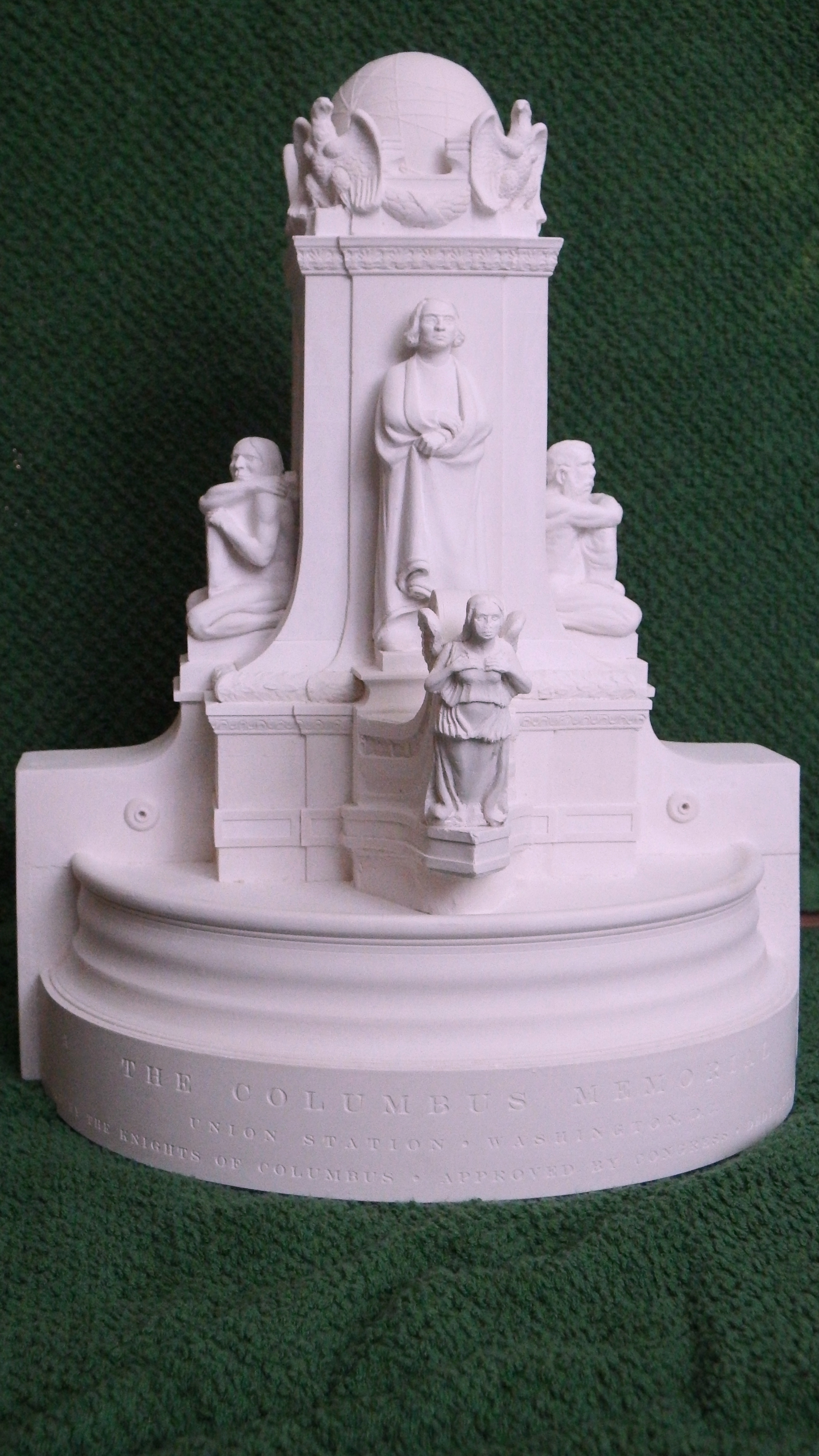 Where have you seen this before?
Do you know where it came from?
This is a model of the memorial of Christopher Columbus, the original of which is located in Union Station, Washington D.C. and can be seen on the table of the Faithful Navigator at our business meetings.
It was donated by the Knights, approved by Congress,
and dedicated on June 8,1919.
How did we come by it?

Presented to PFN Michael P. McCarthy
---
---
Monthly Business Meeting
Meal is being provided and served by Council ?????
Menu will consist of Cost only $10.00, welcome to come early 6:00 pm, and enjoy fraternity with other members of our Assembly.
ATTN Phone Captains: Please contact members on your list and provide me with your meal counts (respond to email).
---
New Uniform
(Note old uniform may only be worn only until the end of this Columbian Year June 30, 2019.)
IMPORTANT information re new regalia for Assembly 2230
As of July 2018 the official supplier for The Canadian Sir Knight's uniform will be:
Enterprises Roger Sauvé Inc.
LOCATED AT: 6546 St.Hubert St. Montreal, QC, H2S 2M3 , (514) 270-1211
---
Regular Business Meetings are held at
Church Hall, Our Lady of Mount Carmel, St. Laurent Blvd.
Regular Business Meeting Nights: Due to Covid19 pandemic, online meetings will be announced via e-mail until furthur notice.

Please confirm your attendance in advance with the Faithful Captain Mark McAvoy (613) 830-3032 . We must pay for all the meals that are ordered, so please, if you can't make it, let him know at least three days in advance or you will be asked to pay for the meal we have ordered on your behalf. (Meals are currently priced @ $10.00 each)
Social 6 ~ 6:30, Dinner 6:30 ~ 7:30, Business Meeting starts at 7:30PM usually ending around 9:00 PM.

N.B. if you haven't reserved your meal with the Faithful Captain beforehand,
no meal will be provided to you at the meeting..

N.B. Executive meetings are every fourth Tuesday@ 5:30 PM in basement of rectory at Our Lady of Mt. Carmel.
If you have changed address, phone number or e-mail, please let Faithful Comptroller Emmanuel Ukwu 613-456-6138 know so he can update the Assembly's files. You can also e-mail information to the Assembly by clicking here.
THANK YOU IN ADVANCE FOR YOUR CO-OPERATION.
*Due to Covid19 meeting restrictions, it is suggested to either mail your dues cheque to Emmanuel or call him to make other arrangements.

Plastic name badges are available free to all new members.
Replacements for lost badges
are at cost to the member and must be ordered beforehand.