Marriage Preparation
First Step: Contact the Parish Office
The Marriage Preparation ministry is lead by Deacon Mike and Josiane Seguin. Please contact the Parish Office to set up the initial interview. It is recommended that the first contact be a minimum of 6 months before the wedding but 9 months to one year is preferred in order to allow time for proper preparation. At this first meeting we will discuss the documentation that is needed. You will also be scheduled for the FOCCUS premarital inventory and the Marriage Preparation Course. NO DATE CAN BE SET FOR A WEDDING UNTIL THE INTIAL INTERVIEW TAKES PLACE.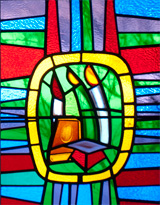 The FOCCUS premarital inventory is in an instrument to help you as a couple identify issues you want or need to discuss before marriage. Each of you will be given an identical list of statements to which you either agree or disagree. After completing the inventory you are encouraged to discuss it on your own as a couple. A computer print-out of your areas of agreement will be produced. Two to three weeks later you will be contacted to arrange a meeting with a married couple who are members of our Marriage Preparation team to discuss your FOCCUS report. This is a completely confidential discussion and is not shared with anyone other than you and the team members.
The MARRIAGE PREPARATION COURSE is facilitated by trained married couples. This program consists of eight two-hour sessions, one session per week for eight consecutive weeks or two morning and two afternoon sessions on two consecutive Saturdays. There will be several other engaged couples in the course with you. It is EXTREMELY important that you both attend all eight sessions. You will be asked to spend time between sessions discussing the topics that have been presented.
The program used at Divine Infant Parish is Today and all the Days of Your Life. The topics covered are:
The Sacrament of Matrimony
Family of Origin
Romance, Disillusionment & Joy
Sex & Sexuality
Communication
Finance
Planning & Parenting of Children
The Promise to: Love and Honour all the days of your life
Each of the eight topics will consist of some or all of the following:
video
presentation by a married couple
guest speaker
group discussion
written exercises

Plan Your Wedding Liturgy
During the first meeting you will be given material to help you in choosing the readings and prayers for your wedding. Your selections should be discussed with the priest or deacon when you meet with him.
Meet with the Presider of Your Wedding
You will need to arrange a meeting with the priest or deacon who will preside at your wedding. This should be done after completing the marriage preparation course.
If you have any further questions about being married at Divine Infant Parish or would like to schedule your initial meeting, please contact the Parish Office at 613-824-6822 x 221.