Our Lady of Mount Carmel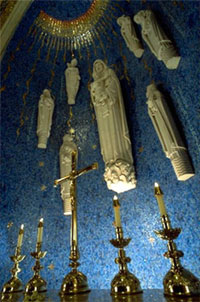 The Virgin of Mount Carmel is surrounded by six Carmelite saints whose union with God was marked by prayer and suffering: Andrew Corsini, Teresa of Avila, Simon Stock, Mary Magdalene de Pazzi, John of the Cross, and Therese of Lisieux. The Mother and Christ Child hold a brown scapular, the identifying symbol of the religious order that traces its origins to the mountain in Palestine, which was consecrated to God by the Old Testament prophet Elijah.
Renowned as an intercessor for suffering souls in purgatory, Our Lady of Mount Carmel answers the plea inscribed on the balcony: "Virgin mother remember us. On our behalf speak to God. His anger turn away from us. "Christians who are still pilgrims on earth speak the prayer on the inside arch: "Our Lady of the Scapular of Mount Carmel, pray for us who are clothed in your sign of salvation."







Prayer to Our Lady of Mount Carmel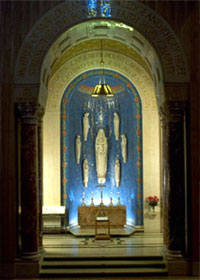 O beautiful Flower of Carmel, most fruitful Vine,
Splendor of Heaven, holy and singular,
who brought forth the Son of God,
still ever remaining a Pure Virgin,
assist me in this necessity.
O Star of the Sea, help and protect me!
Show me that thou art my Mother.
O Mary, Conceived without sin,
Pray for us who have recourse to thee!
Mother and Ornament of Carmel, Pray for us!
Virgin, Flower of Carmel, Pray for us!
Patroness of all who wear the Scapular, Pray for us!
Hope of all who die wearing the Scapular, Pray for us!
St. Joseph, Friend of the Sacred Heart, Pray for us!
St. Joseph, Chaste Spouse of Mary, Pray for us!
St. Joseph, Our Patron, Pray for us!
O sweet Heart of Mary, be my Salvation!
Visit [ http://www.nationalshrine.com ] to find out where the chapel is located!
also for the origins of the Mount see [http://www.terra-santa.net/mount_carmel.htm ]
Another great site to visit is http://www.marypages.com/MountCarmel.htm which describes more history of Mary and Mt Carmel.